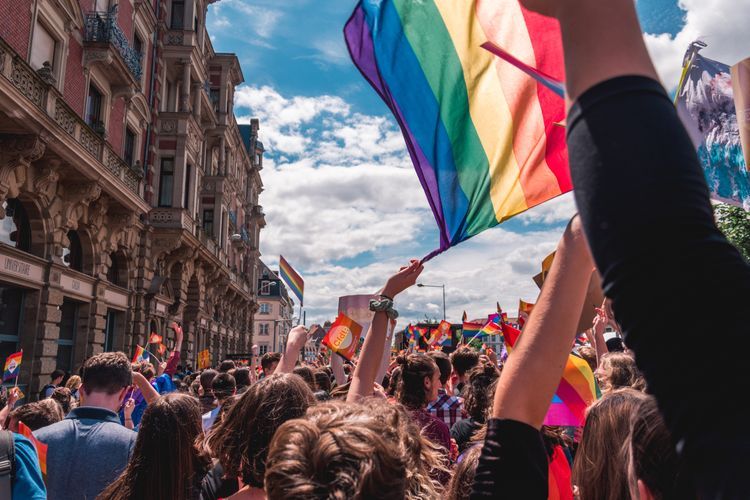 Three years ago, NYC Pride was at its largest ever. New York City commemorated Stonewall's 50th anniversary and hosted World Pride, bringing millions together to celebrate and advocate for equality.
The LGBTQ+ movement has its roots in the Stonewall Uprising of 1969. The Christopher Street Liberation Day Committee organized the first NYC Pride March a year later, and marches have been held every year since. With the onset of the HIV/AIDS pandemic in the 1980s, we witnessed the beginning of some of our community's darkest days.
Despite significant progress in securing our human rights over the years, violence in our community persists due to the proliferation of guns in America. And hate crimes against all members of our communities, particularly our Black Queer and Trans communities, persist.
What is Pride Month?
Lesbian, Bisexual, and Transgender Pride Month (LGBT Pride Month) are observed each June to commemorate the 1969 Stonewall riots and work for equal justice and opportunity for lesbian, gay, bisexual, transgender, and questioning (LGBTQ) Americans. Supporters of the Stonewall Inn in New York City staged a protest in June 1969 to protest the harassment and persecution of LGBT Americans. This uprising heralds the start of a movement to make discriminatory laws and practices against LGBT Americans illegal.
Today's celebrations include pride parades, picnics, parties, workshops, symposia, and concerts, and LGBT Pride Month events attract millions of people and communities from all over the world. During this month, memorials are held for community members who have died due to hate crimes or HIV/AIDS. The commemorative month's goal is to recognize LGBTQ people's contributions to history locally, nationally, and internationally.
Pride Month Activities
On the last Sunday of June, the Pride Parade begins at noon in Madison Square Park. Before looping through Manhattan and ending in Chelsea, it will pass by the Stonewall Inn and the AIDS memorial. The route is estimated to take about 1.5 hours to walk, so bring plenty of water and sunscreen if you plan to participate. You can do so for more than nine hours if you want to watch it!
In June, other events will occur throughout New York City, ranging from rallies to parties to lectures and film screenings.
Pride Opening Ceremony: The Pride opening ceremony concert is always epic and usually takes place on the Wednesday before the parade at 6 p.m. at the Barclays Centre. In 2019, there were live music acts and special guests including Whoopi Goldberg!
Pride Island Concert:  Pride Island is a multi-day live music festival held on Pier 97 at Hudson River Park on the last weekend of June. It's a massive party with live music and international DJs; in 2019, Madonna even performed! You should be 21 years old or older to attend, and tickets must be purchased quickly, as they frequently sell out.
The New York City Dyke March (FREE): Unlike the original Pride marches, the New York City Dyke March is a protest march rather than a parade. This march is usually held the day before the main parade, beginning at 5 p.m. in Bryant Park and ending in Washington Square Park. A march is a gathering place for anyone who wishes to participate.
PrideFest street fair (FREE): PrideFest is an annual LGBTQ street fair that brings together exhibitors, entertainers, and activities for a day of fun and equality. It's free and open from 11 a.m. to 6 p.m., making it the perfect event to attend after watching the parade. The fair occupies the entire 4th Avenue between Union Square and Astor Place.
Pride Closing Ceremony: Immediately following the parade, a concert featuring artists such as Melissa Etheridge, Jake Shears, MNEK and Deborah Cox is held in Times Square.
Pride Month Food
Enjoy this month with a pride month-themed rainbow paella here at Socarrat. The delectable crust that forms on the bottom of the pan after the liquid is rendered and the rice reaches its highest succulence is the epitome of the perfect paella, and our Spanish restaurant is named after it.
The menu at Socarrat Paella Bar is an authentic array of delicious dishes from Spain's regions, specializing in traditional tapas emphasizing paella and fideuá (which substitutes fried noodles for rice). And our food is as diverse as our customers.